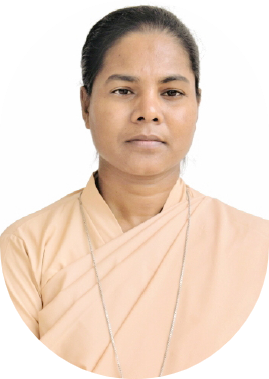 I am happy to present to you the Silver Jubilee edition of St. Clare's Convent High School. I would like to take you through the memory lane from 1993 - 2018.
The words of Robert Southhell, "It is not where we breath that we live, but where we love."
Dear Students, schooling is our first contact with the world, a period of joy, healthy competition, learning, adjustment, sharing and love. It is not the wide open spaces, classrooms, the library, laboratories or the large fields that make the school. It is in the heart of the students and staff that the true institution exists.
According to academic analysts, the youth of the future generation are going to be more prone to violence and deviant behaviour. The deteriorating trend is a matter of great concern to parents as well as teachers. We are all aware through media reports of incidents of abuse, self inflicted violence, violent outburst, depression, violence using social media and other on-line forms.
Dear Students, it is my message to you that all the people of fine character live by their values. They are honest and are committed to truthfulness in thought, word and deed. True character thus encompasses the capacity for self-discipline.
In the words of Mother Seraphina, Education deals with the season of the heart. It builds up right attitudes towards self, towards others, society and towards different cultures.
No sound character can be formed without the practice of human as well as religious values, nor can one live a life of excellent principals and intrinsic goodness without a firm footing in these values and ethics. Intellectual development without the development of character will defeat the very ends of education. Her only concern was to set all human beings absolutely and unconditionally free from the darkness of ignorance, unbelief and temporal values through education.
"One of the main tasks of an educator is to study the character and abilities of each pupil, guide them with firmness and maternal tenderness on the path of truth and goodness."
Character is the sum total of person's values, belief and personality. It is reflected in our behaviour and actions. It needs to be preserved more than the richest Jewel in the world. To be a winner takes cahracter: George Washington said, "I hope I shall always possess firmness and virtue enough to maintain what I consider the most valuable of all titles, the character of an honest man."
The road to success has many pitfalls. It takes a lot of character and effort not to fall into them. Character is a combination of integrity, unselfishness, understanding, conviction, courage, loyalty and respect. Character building starts from infancy and goes on until death. Just like a gardener has to keep weeding to prevent weeds from eating the life of the garden, we need to keep building and developing our character by weeding out our faults. John F. Kennedy once aagain said that it is a mark of Character how well a person behaves when things are going well. When things are going well for us, it is easy to be logical, kind and gractious, but when things aren't going well and we're under lot of pressure, some people can't think clearly and snap at others around them, while others remain clear-headed and continue to treat others with respect. Adversity reveals a person's character.
There is a Russian saying: A hammer shatter glass but forges steel. "There is a lot of truth in the saying. Are we made of glass or steel? Just as carbon determines the quality of steel, character determines the quality of a man."
Wish you all the very best
SR R MALAR KODI
Principal